Profile of the Artist and her Motifs:
The originals of the Jewish works of art included here were water-painted by the artist Marianne Miriam Nagler and now can be found in private collections. The art series was made in co-operation with Gerschwald Products and was officially introduced at the Royal Danish General Consulate in New York in June 1984.
In the 1980s a set of 750 hand pencil-signed and numbered art prints was produced. Some art prints were sold during the original launch and at the art shows; others were damaged in transport. The estimate is that there are now about 200 numbered and pencil-signed prints.
Those will now be sold to customers worldwide.
Each print set of "Motifs from the Jewish Year" comes housed in a grey art-case. The motifs in this exclusive series comprise two motifs based on Tu Be'shvat, the Jewish New Year of the Trees – showing fruits and planting of trees respectively – and another based on Sukkot, the Feast of Tabernacles. There is also a print entitle "The Return of the Twelve Scounts with News from the Holy Land". The warm colors and the motifs chosen are reminiscent of Marc Chagall's print series and paintings.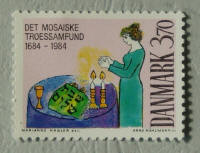 On the occasion of the 300th anniversary of the Jewish community in Copenhagen, celebrated in November 1984, the Danish Postal Service invited Marianne Miriam Nagler to create a stamp with a Jewish motif. The stamp shows a woman preparing for Shabbat and clearly features the words Shabbat Shalom in Hebrew, as well as "Det Mosaiske Troessamfund 1684 – 1984."